Cabinet Dimensions
When ordering accessories, sizes listed refer to the dimensions of your drawer or cabinet door, specifically to the outside dimension of the drawer face or door face—NOT THE INSIDE!
How To Measure
Measure the width of the face of your drawer or cabinet door when determining which size of drawer accessory, shelf, or pullout to purchase, as indicated in the diagram below.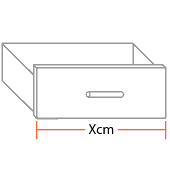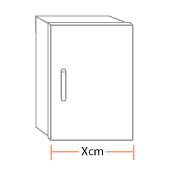 All accessories on this site are listed in metric measurements. We've listed approximate conversions to aid our U.S. customers.
| | |
| --- | --- |
| cm | inches |
| 45 cm | approx. 17.7 in |
| 60 cm | approx. 23.6 in |
| 90 cm | approx. 35.4 in |
| 120 cm | approx. 47.2 in |
To be able to use internal pullouts, there must be at least 5 cm (2 in) of unobstructed space on the hinged side of the door to allow enough room for the door to open fully to provide proper clearance for the pullouts (don't forget that handles and pulls can effect clearance.)